From the Western Standard:
Have you noticed that the coverage of Pierre Pettigrew's frequent trips with his chauffeur is missing something—something big?

From what I can tell, searching his biographies and articles about him, Minister Pettigrew is an unmarried man. He is certainly an eligible man, with his most enviable hair and European styling. He has a pad in Paris.

I cannot imagine that, in a country where same-sex partners have the same rights as heterosexual couples, that suggesting a romantic entanglement between one man and another man would qualify as any sort of slander. And yet, doesn't it seem like there might be more to this tale of the minister and his driver than a strictly professional relationship?
For what it's worth, Frank magazine put Pierre Pettigrew on its "gay list" as early as 2002.
As Kevin Libin points out, this is not about being gay. This is about bringing your friend-with-benefits on taxpayer-paid trips. If an unmarried male minister was traveling around with a Pamela Anderson look-a-like clearly unqualified to be a translater/interpreter, questions would be asked.
But hey, if we're going down this route, what about this question? Anyone notice that in all of Paris to have an apartment, Pierre Pettigrew's apartment (which he has owned before coming to Ottawa in 1996), on Rue Aristide Bruant, is only two miles from the Marais, a major gay quarter?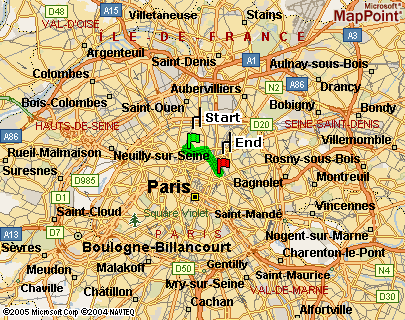 Moreover, when he's at this apartment, he doesn't like to be bothered:
The existence of the apartment, which Pettigrew already owned before he came to Ottawa in 1996, has never been a secret. At one point he actually appeared in footage the BBC used as an illustration of la vie française, sunning at an outdoor Paris cafe. But at some point, the minister's Parisian pied-à-terre became a source of acute irritation back home. That's where Pettigrew was on Boxing Day -- when the Asian tsunami struck. And it's from there, sources say, that Pettigrew gave his initial response to requests to return home, including one from his colleague Bill Graham at National Defence, to help deal with Canada's response.

It was a curt "No."

Hours later, Graham was chairing a cabinet committee on the disaster and Pettigrew's parliamentary secretary, Dan McTeague, was sending the first shipment of Canadian aid from CFB Trenton. As for the minister? Pettigrew was in Paris, refusing media requests to go to a studio for interviews. Departmental insiders say he didn't want to draw public attention to his whereabouts.

It took several days -- and an unfriendly command from the PMO -- to pry him back to Canada, where more than 150 employees of his department had been putting in 22-hour days to locate missing Canadians. "He was badly reprimanded after the tsunami," says one senior staffer. That account has been confirmed by others in Pettigrew's office. His staff has defended him, saying he's always in close contact, willing to return home on short notice when necessary. But the pattern repeated itself. When suicide bombers struck the London transit system on July 7, Pettigrew was again in Paris, and didn't show his face publicly after several other incidents, including the Hans Island flap with Denmark and the terrorist bombing at the Sharm el-Sheikh tourist resort in Egypt.
Seems to me that when Pierre Pettigrew is holed up in his Parisian getaway, he stops taking calls, and definitely requires privacy...for something.
Busy with this and that, I suppose.
Not that there's anything wrong with that!